Mo'vox brothers – Aim-records – Aim 06 – july 2001 – 7″ vinyl release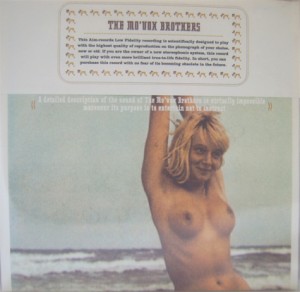 A detailed discription of the sound of The Mo'Vox brothers is virtually impossible. Moreover its purpose is to entertain not to instruct. This Aim-records Low Fidelity recording is scientifically designed to play with the highest quality of reproduction on the phonograph of your choice, new or old. If you are the owner of a new stereophonic system, this record will play with even more brilliant true-to-life fidelity. In short, you can purchase this record with no fear of its becoming obsolete in the future.
Mo'vox brothers are : Tommy Denys & Jonas Nachtergaele
→ Download all tracks
Here is the Music Player. You need to installl flash player to show this cool thing!
"The great muzak" is a whistle, a walk in the street, a happy face when you wake up. Mind eating, cause you'll have to face it folks, this is a brainwasher. "Moon station" is this so-called though guy, marching at a good pace. A confident attitude.
With "cosmovox" we are catapulted into the atmosphere – surrounded by the deafening roar of rockets, which fade into nothingness, and are enveloped by the silence of space and swallowed into a nebulous mist of weightlessness…floating far and wide. "Yuca" reflect the Saturday night parties at the Brothers' place. Freaking out at home, playing our own house-style enclosed by strange odors.