An absurd audiotale inspired on Eye contact – Backdoor Strategies – Franky D.C and Henk Visch's invisible horse. For spottersnoise at S.M.A.K.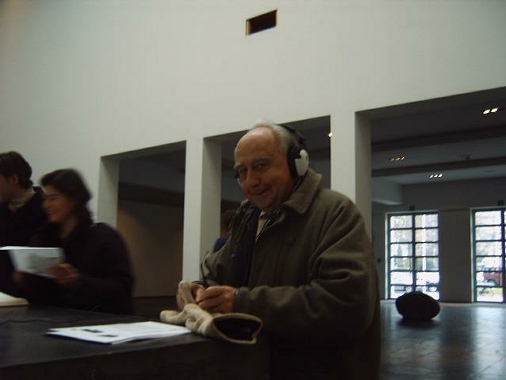 [audio:http://www.loosefeet.be/audio/whiteheadphone.mp3]
Beethoven was playing videogames on his computer, when he got a phonecall from a baby. The baby said: Hey beethoven, how's the dead bird doing dude. The duck, you mean? Said Beethoven. Not the one who's married with the fish, and lived nextdoor that ugly horse. The one with its tale on its forehead and the seven phonographs in the sky. Ding dong. Yo baby, i have to go, there's someone at the door. Byby. By! Beethoven opened the door, and there they stood. Three buddha's and Chris Whitley. They always came by on thirsday. They used to train Sheep. Sheep have wool, and chew a lot, also the black ones. But now they were intwo ping pong . Lets ping pong, they said. They called themselfs the albatros crime club. They even had friends in Mexico doing the same. Playing ping pong. Even in a forest, but the problem was there was no internet in the forest so they stopped playing ping pong in the forest. Because they want to be in peace when they play, Beethoven took his keys to lock his wooden door. Keys can open and lock locks. you know. The key two knowlledge about ping pong. One buddha said, hey beethoven, your roof is on fire. No problem he said. I allready brushed my teeth with my electronic toothbrush, so when my house burns down, i got a fresh breath. So i wont drink coffee, for keeping my fresh breath, but you can iff you want. I do , said chris whitley, and two of the buddha's. The third buddha only wanted half a cup. Hup holland hup. So Beethoven went to his minibar and put on the coffeemachine. He had that machine for ages, and it started to sound like david sanchez who's eating duck in a mountan landscape. That woudn't have been a problem if it wasn't for the piece of fruit who was in a fight with beethoven. Accidents will happen he thought. But nothing was less true. The roof was still on fire, and in that light , she came. Yes, she. Mary. Mother mary, the holy virgin. wauh. She had that groovy sound of chicago. Sorry guys, she said. I'm a litlle late, because my alarmclock didn't go off. No worries , the buddha's said. We allready knew that was one of your deliquent habbits. So we allready started with the mouse. The mouse? Yes, the mouse who ate you rizzla's last time. Ooh that mouse . hhuhuhuh.
spottersnoise 2006, thanks for listening